VMF/VMA-124 and VMF-155 History
---
---
| | | |
| --- | --- | --- |
| | VMF/VMA-124 | |
Marine Attack Squadron 124 (VMA-124) was a fighter squadron in the Marine Forces Reserve based out of Naval Air Station Memphis flying the A-4 Skyhawk. They were part of Marine Aircraft Group 42 and were decommissioned in 1996. The squadron is best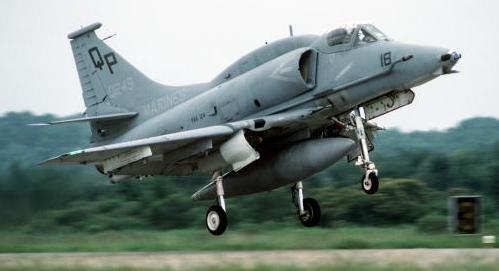 known as the first Marine squadron to fly the F4U Corsair during World War II and also the first squadron to be based on an aircraft carrier. They were known as the "Wild Aces" and ended World War II with 78 air to air victories against Japanese aircraft.

VMF-124 was formed on September 2, 1942 at Camp Kearney, San Diego, California. They were declared fully operational on December 28, 1942 even though the squadron's pilots had only an average of 25 hours each in the plane. They arrived on Guadalcanal on the morning of February 12, 1943 led by their commanding officer, Major William Gise. The squadron flew their first mission before lunch that day, with twelve F4Us escorting a PBY Catalina on a 230 mile mission to pick up two downed pilots at Sandfly Bay, Vella Lavella.

The first F4U pilot to be decorated with the Medal of Honor came from VMF-124 — 1st Lt Kenneth A. Walsh for a mission on August 30, 1943, during which he shot down four Japanese Zeros before ditching his borrowed Corsair. The squadron remained in the Solomon Islands until September 1943, fighting over the Russell Islands, New Georgia and Vella Levella.

Following the fighting in the Solomons, the squadron was disbanded and reconstituted back in the United States where it trained in the Mojave Desert at Marine Corps Auxiliary Airfield Mojave for the next year. When they received their orders for carrier assignments they had five combat experienced pilots as their training nucleus VMF-124 left the States again on September 18, 1944, heading to Hawaii. While in Hawaii they were attached to Navy Air Group 4 who were operating off the USS Essex (CV-9). Along with VMF-213, 124 became the first Marine squadron to be based on an aircraft carrier. While deployed aboard the Essex, they took part in fighting over Lingayen, Luzon, Formosa, Tokyo, Iwo Jima and Okinawa. On January 3, 1945 VMF-124 and VMF-213 struck Formosa and the Ryukyu Islands in the first Marine land strike off a carrier.

The following members of VMF-124 were credited with at least five enemy aircraft shot down during World War II:


William E. Crowe
Howard J. Finn
Wallace E. Sigler
Kenneth A. Walsh


Chronological History of VMF-124/VMA-124
•Sep 7, 1942, VMF-124 is organized from the remnants of VMF-122 at Camp Kearny, California.
•Dec 28, 1942, the twenty-two F4U-1's of VMF-124 are declared combat ready. At this time, only 178 Corsairs have rolled off the assembly line at Vought.
•Jan 8, 1943, VMF-124 departs San Diego aboard the SS Lurline.

First deployment, February to September, 1943:

•Feb 11, 1943, VMF-124 arrives at Guadalcanal aboard the destroyer USS Thornton. (VMF-124 left San Diego aboard the Lurline which delivered them to New Caledonia. There they boarded the Coast Guard Hunter Liget which took them to to Efade, New Heberdies Islands. Some of the ground crew left Efade by air [transports] and the balance were delivered to Guadalcanal by the destroyer USS Thornton.)
•Feb 12, 1943, Major Gise leads 12 Corsairs of VMF-124 to Cactus field, Guadalcanal in the morning, before noon they fly their first combat mission, a Dumbo escort.
•Feb 13, 1943, VMF-124 flies a 600 mile round trip mission escorting PBY's. Such a long escort flight had previously been unheard of in the U.S. Navy. One Zero was encountered, evidently a curious Japanese pilot wanting to get a look at the unfamiliar fighters.
•Feb 14, 1943, the "Saint Valentine's Day Massacre". Four P-38's, two P-40's, two F4U's, and two bombers are lost, only three Zeke's downed including the one that collided with a Corsair.
•Apr 1, 1943, 58 Zekes on a fighter sweep tangle with six P-38's. The P-38's had just relieved Ken Walsh and his seven F4U-1's of CAP (Combat Air Patrol) duty. Ken Walsh and his flight returned to the area to assist the P-38's, two Zekes and one P-38 were already falling

from the sky. By the end of the battle, 42 Allied aircraft were in the fight, 20 Japanese aircraft were shot down. This marked Ken Walsh's first combat flight, he was credited with three aircraft destroyed.
•Apr 4, 1943, VMF-213 arrives on Guadalcanal, VMF-124 rotates to Australia for six weeks of R&R.
•May 13, 1943, Ken Walsh becomes the first Corsair ace by downing three more aircraft and a probable fourth, this is only his second combat mission. Major Gise is killed in action this day.
•June 5, 1943, Walsh downs a Zeke and a Pete. During June of 1943, VMF-124 occasionally operated from the forward airstrip at Banika in the Russell Islands.
•July, 1943, VMF completes their second six week combat tour and rotates out for six weeks of R&R.
•Aug 12, 1943, Walsh downs two more with a probable third.
•Aug 14, 1943, VMF-124 moves to Munda, New Georgia, only nine days after it was captured.
•Aug 15, 1943, VMF-124's best day of combat with 13 kills while protecting the landings on Vella Lavella.
•Aug 21, 1943, Walsh downs two more with a probable third.
•Aug 23, 1943, Walsh gets another probable in the Vella Lavella area.
•Sep 7, 1943, VMF-124 completes its first tour of duty and rotates out of Munda.
•Oct 13, 1943, VMF-124 arrives in the U.S. for reorganization and retraining.
•Sep 18, 1944, VMF-124 departs the U.S. aboard the USS Ticonderoga.
•Sep 24, 1944, VMF-124 arrives at Pearl Harbor, Hawaii.
In October of 1944, kamikaze attacks begin. The Navy, not being short of F6F Hellcats, but short on fighter pilots, begins transitioning SB2C and TBM pilots to the Hellcat. This transition training would take a lot of critical time, so the Navy authorized the immediate carrier qualifications of ten Corsair squadrons. VMF-124 and 213 are among the ten selected.
•Dec 28, 1944, VMF-124 and 213 board the fast carrier Essex at Ulithi Atoll with new F4U-1D Corsairs.

Second deployment, January to March, 1945:

•Jan 2, 1945, VMF-124's first carrier born combat mission, escorting TBM's of Torpedo 4 on an attack on Kagi airfield, Formosa.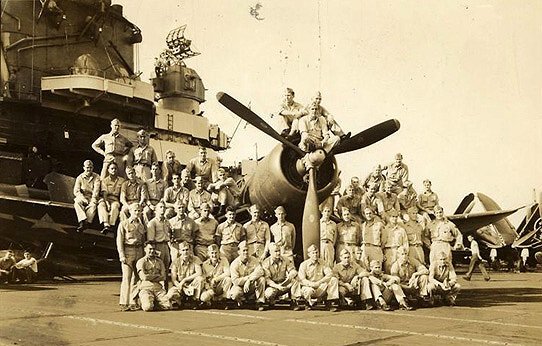 •Jan 4, 1945, escort TBM's striking Formosa.
•Jan 6 and 7, 1945, stikes against the northern Philippines. In the first nine days of combat operations, VMF-124 and 213 lose seven pilots and 13 Corsairs, all to operational accidents.
•Jan 9, 1945, strikes flown against Formosa.
•Jan 10, 1945, CAP 200 miles west of Luzon.
•Jan 11, 1945, CAP 100 miles east of China.
•Jan 12, 1945, anti-shipping strikes in the Saigon River and harbor and attacking runways and buildings in Bien Hoa and Long Bin.
•Jan 14, 1945, CAP over the task force.
•Jan 15, 1945, attack on the harbor area, Takao, Formosa.
•Jan 16, 1945, strikes against Yulingan Bay and Saifa Point, southern China.
•Jan 20, 1945, CAP nets eight Helens shot down and one probable out of ten sighted. A great day for VMF-124 and 213.
•Jan 21, 1945, strikes against Formosa.
•Jan 22, 1945, strikes against Okinawa.
•Jan 25, 1945, the Essex returns to Ulithi for re-supply, replacement Corsairs, and replacement pilots.
•Feb 16, 1945, escort TBM's striking Vayzu airfield near Tokyo.
•Feb17, 1945, strikes against Tokyo.
•Feb 19, 1945, strikes against Iwo Jima.
•Feb 21, 1945, strikes against Iwo Jima, Haha Jima, and Chichi Jima.
•Feb 25, 1945, fighter sweeps over airfields north of Tokyo. Many pilots report few targets and the weather over Tokyo is so bad that pilots report frozen guns and frost bite.
•Mar 1, 1945, strikes against Okinawa, minimal opposition reported.
•Mar 4, 1945, the Essex returns to Ulithi, VMF-124 and 213 are detached and will depart for the U.S. Many of VMF-124 and 213's Corsairs remain onboard the Essex, are given new markings (the "hour glass" marking) and become VBF-83's Corsairs. The war would end before VMF-124 would be ready for another combat tour.
Click here to view a photo of VMF-213, who served with VMF-124 aboard the USS Essex, including a photo of Lt. Col Millington, who later became the CO of Air Group-4
| | | |
| --- | --- | --- |
| | VMF-155 | |
Marine Observation Squadron 155 (VMO-155) was activated on October 1, 1942 as part of Marine Aircraft Group 13. The squadron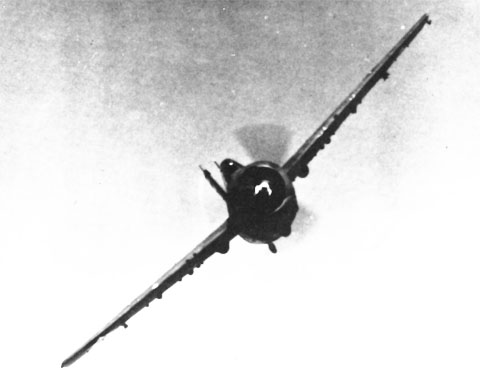 was initially based in American Samoa and its first personnel came from VMSB-151. Their first complement of aircraft were SBC Helldiver biplane dive bomber and the J2F-5 Duck amphibious biplane. In December 1942, the bulk of the squadrons personnel were sent to Guadalcanal where they were assigned as replacements. A small cadre of six officers and fifteen enlisted men were retained in the squadron and ordered to Camp Kearney, California to re-equip and train.
Beginning in January of 1943, VMO-155 began training on the F4F-3P Wildcat, a fighter specifically designed for photographic reconnaissance. During this time they also began receiving their carrier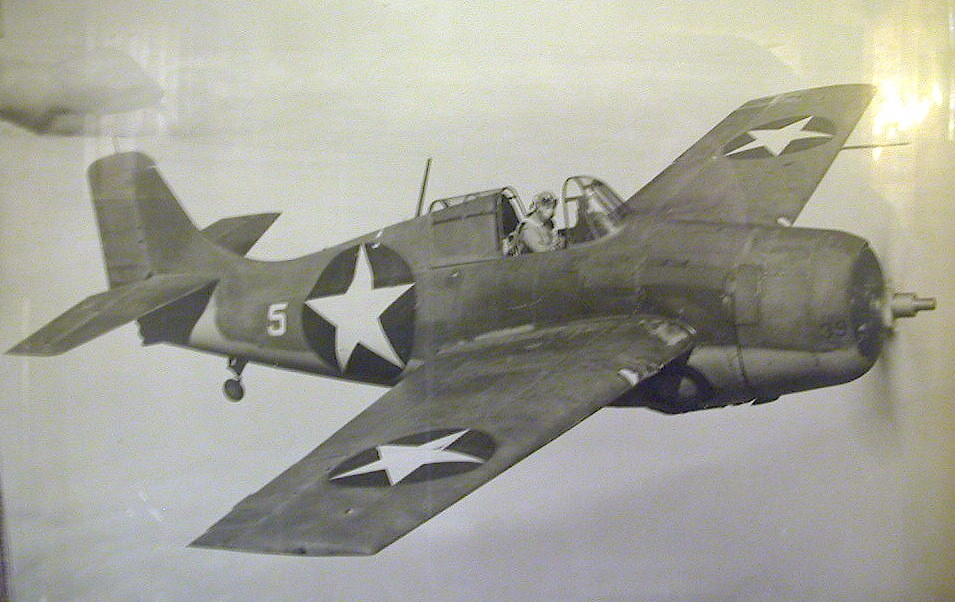 qualifications. In April 1943, with their training complete, a detachment from the squadron was ordered aboard the USS Nassau (CVE-16)to participate in the invasion of Attu in the Aleutian Islands. This operation made them the first Marine squadron to operate from anaircraft carrier during World War II and the only Marine squadron to operate in the North Pacific. Following the Operation in theAleutians, the detachment rejoined the squadron in June 1943 and quickly moved to Marine Corps Air Station El Centro for further training. In February of 1944, VMO-155 moved to Midway Atoll and became part of the local garrison. After four months on Midway, they were sent to Marine Corps Air Station Ewa, Hawaii. From MCAS Ewa, the squadron was again split up. This time the ground echelon was sent to Kwajalein and the flight echelon went to Roi. From these locations, for the rest of the war, the squadron took part in strikes against the Marshall Islands.
On January 31, 1945, VMO-155 was redesignated Marine Fighting Squadron 155 (VMF-155). The squadron was deactivated on October 15, 1945, shortly after the cessation of hostilities with Japan.